THE CHALLENGE
First Responders and Disaster Response personnel include people from all walks of life. While some are full-time (or career) professions, many are part-time responders. For instance, nation-wide over 70 percent of Fire Fighters are volunteers. The geographic dispersion of these individuals has complicated the orchestration of activities Public Safety and First Responder (PSFR) personnel are tasked to participate in - even within a single jurisdiction. Computer Aided Dispatch (CAD) systems and Automatic Vehicle Location (AVL) technologies have helped to resolve many of these challenges, but the electronic aggregation and distribution of mission critical content across a single jurisdiction - not to mention jurisdictions managing the activity of different disciplines (Fire, EMS and Law Enforcement), continues to be a real challenge because of the deployment of proprietary solutions in use today.
In today's growing world of connected devices, the means to rapidly download and deploy an extendable Situational Awareness solution that is capable of interacting with and spanning multiple jurisdictions, including interactions with disaster response organizations who often only deploy in times of great need, is actively sought. With the recent nationwide adoption of FirstNet (a LTE-based broadband solution dedicated to PSFS activities) a nationwide movement is underway to augment legacy P25-based enabled Land Mobile Radio (LMR) devices with mobile phones and tablets capable of interacting with the nationwide public safety broadband networks rolling out under FirstNet. The next big thing FirstNet early adopters are searching for are the collection of "Killer Apps" they need to reduce their operational workload. iCode Mobile Solutions was founded to design, develop, integrate, test, deploy, and demonstrate innovations that empower those who protect us all. Please consider sending us an information request (see form at the bottom of this page) to learn how your organization can get engaged in our efforts.
OUR BASELINE SOLUTION
Our objective is to enhance the Situational Awareness of PSFR participants who originate from different organizations, and traditionally report to different jurisdictions, that are brought together because of the size and/or complexity of a particular emergency situation. These situations require timely interactions not only between Firefighters, EMS, Law Enforcement disciplines but potentially across multiple emergency response facilities (e.g., EOCs, Command Centers), operational Incident Command Posts, Joint or Unified Command Posts, and many support organizations (e.g., DART/CERT, Medical Examiner, Public Works, Animal Control). Extensions to these organizations could include Utility (Gas, Electric) companies, Road-Side Assistance companies, Transportation agencies, and Port Authorities, and Non-Governmental Organizations (NGOs) like the Red Cross.
To address these needs iCode created a scalable and resilient system comprised of a two major subsystems: a multi-functional mobile application called the First Response eXplorer (FRX); and companion subsystem comprised of a collection of Public Safety Cloud Services (PSCS). The FRX app resides on commercially available mobile devices, whereas PSCS components are provisioned on cloud computing infrastructure platforms (i.e., Amazon Web Services, and Google Cloud Platform) distributed across the Internet. The FRX app traditionally interacts with instances of our companion PSCS residing in the cloud. However, options exist to provision PSCS components along with Cellular On Wheels (COW) / System On Wheels (SOW) units to address situations where network connectivity via the Internet is problematic or altogether non-existent. The COW/SOW implementation allows Public Safety Organizations (PSOs) to equip a scaled-down version of our distributed cloud-based PSCS solution in support of First Responders operating in remote locations.
Being a mobile app, FRX is capable of delivering the following utilities into the hands of our nation's First Responders.
Near Real-Time Incident Notifications / Activity Alerts

User-Tailorable Geospatial / Situational Awareness Display

Near Real-Time First Responder Tracking and Status

Secure Instant Messaging / Chat Capabilities

Dynamic Turn-by-Turn Directions
To minimize the cost impact to our public safety community, the FRX mobile app operates on the same commercially available smartphone and tablet devices that (paid and volunteer) PSFR personnel carry with them daily. So there is no need to purchase another smartphone or specially configured radio to run FRX. FRX will be available for download from the FirstNet Catalog later this year.
Introduction to our First Response eXplorer (FRX) App
FRX users go through an On-Boarding process to establish their Identity, upload Credentials, and gain Access to authoritative Mission and Incident-specific content. Depending on the native identification capabilities available on the mobile device (e.g. Touch ID or Face ID), different Multi-Factor Authentication (MFA) options are provided to Identify the user. Options to scan and upload Credentials for subsequent recall, and to designate specific user Attributes associated with these credentials is also accommodated through the on-boarding process. To accelerate the population of mission-critical map overlays and local or Incident-specific data sets - like chat buddy lists, FRX supports the scanning of Local Jurisdictional and Incident-specific Quick Reaction (QR) Codes. These codes are used to access content residing in the companion Public Safety Cloud Platform (PSCP) introduced below.
The FRX App provides icons residing in the Tab Bar running along the bottom of the app window to quickly access different features in the app. The left-most icon in the Tab Bar, the Incident Icon, reveals Incidents from Dispatch / Public Safety Answering Points (PSAPs) the FRX app is subscribed too. These subscriptions are configurable, and Incidents from multiple sources (i.e., Animal Control, VCFPD) can be viewed concurrently. Conveniently, the user can use Range Filters to limit the number of Incidents based their geographic proximity to the user or a specified location (Lat/Lon). Quick sorting options are also available within the Incident Toolbar, and FRX users can easily select which Incidents (in the listing) they want to see overlaid on their Map / Situational Awareness display.
Map / Situational Awareness
The Map Icon exposes FRX users to the evolving situation surrounding them – or anywhere else on the globe they wish to interact with. FRX users can select which mission data layers are visible upon the background map. For example, an FRX-user many choose to overlay Fire Hydrants, Fire Stations, Triage locations, Trauma Centers / Hospitals, and the latest Wildfire Boundary updates in support of unfolding events. Additional mission data feeds are available to provide hyper-local weather data, and recent Moderate resolution Imaging Spectroradiometer (MODIS) and Visible Infrared Imaging Radiometer Suite (VIIRS) satellite overlays (detailing wildfire hotspots). Users can selectively overlay Icons for active and/or in-active Incidents, along with updated positions of First Responder Personnel and First Responder Vehicles. Over time other content streams will provide access to updated positions of FireCast-equipped Air Support Units (Helicopters), FireCast-enabled small Unmanned Aircraft Systems (sUAS), the updated position of maritime tracks reported over Automated Information System (AIS) networks, and more. Borrowing a page from early explorers who set out to discover the new world, FRX apps can self-provision baseline mappings products for the users' local jurisdiction (and adjoining ones). This feature makes FRX useful even during situations where network connectivity in a particular operational area is non-existent. Updates to these mapping products can be synchronized over time and augmented with additional geospatial content published by local authorities. Since the geographical location of FRX equipped devices is monitored by the companion PSCS, refreshed mapping products seem to simply appear as the FRX users begins their journey to a new incident. We think Lewis and Clark and other early explorers would approve.
Responders
The Responders Icon provides FRX users with a quick way to review who is involved in an Incident, and what their role and current status is (e.g., en route, on-scene). Like the Incidents listing, the Responders listing provides options to toggle (display / hide) the location of zero or more first responder personnel on top of the map, and to apply range filters based upon the FRX users' location or a designated (Lat/Lon) location.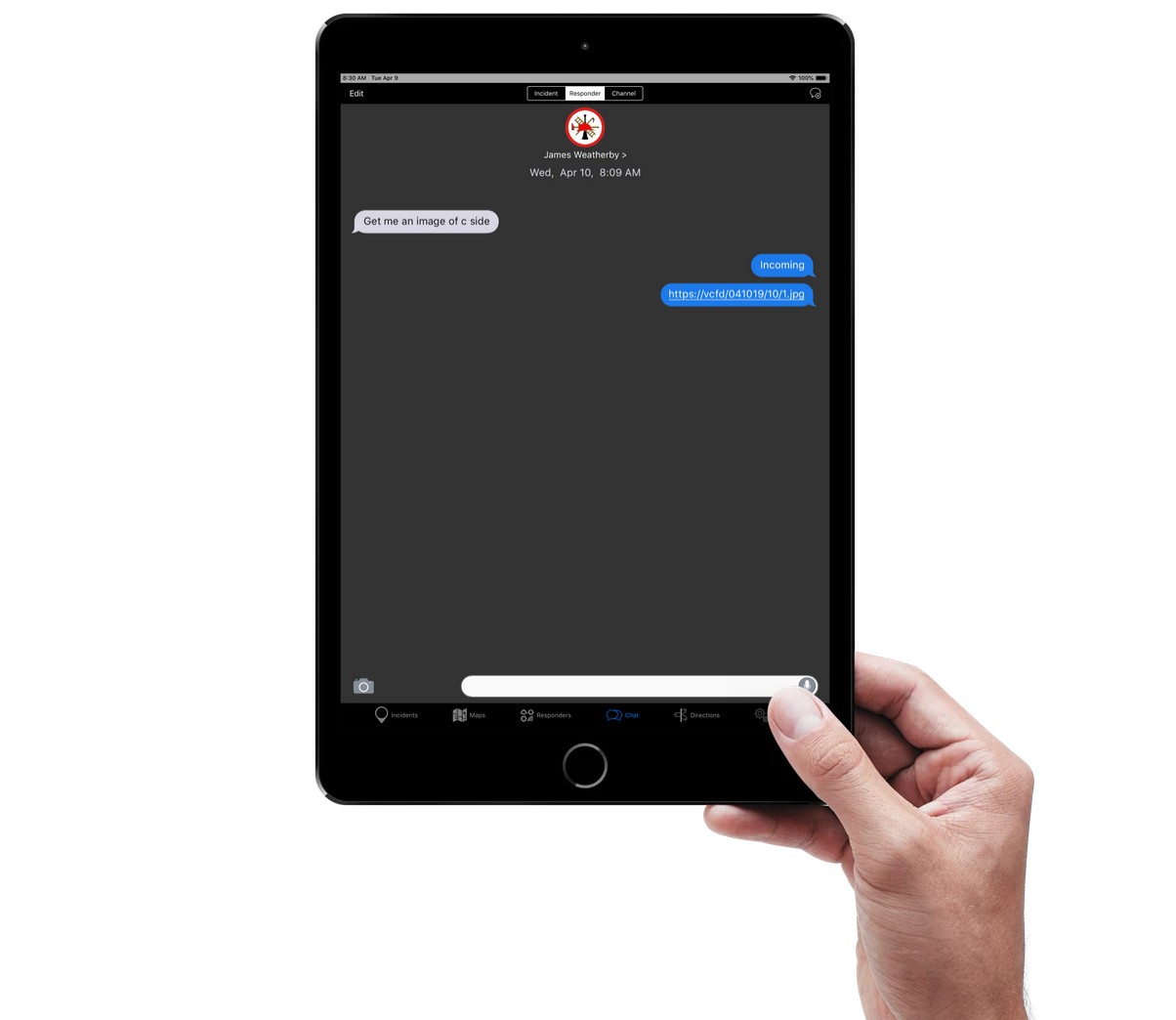 Both Peer-to-Peer (P2P) Chat and Multi-User Chat (MUC) capabilities interactions are supported within the embedded secure Instant Messaging (IM) solution available through the Chat Icon. Incident-driven chatrooms can be leveraged to keep Ad-Hoc teams of First Responders synchronized, and to efficiently disseminate the Incident Commander's (IC) latest intent to all participants involved. While "Incident" specific chat is often used to coordinate actions, at times direct P2P collaboration between two "Responders" is desired. Additionally, FRX users can choose to establish their own MUC "Channels" to exchange information between specific FRX users focused on a particular mission area or need. FRX's IM users can exchange text, still imagery, video and audio content with other local FRX users.
Directions
Selection of the Directions Icon enables an embedded routing capability, offering assistance to FRX users wishing to evaluate alternative pathways to an Incident or other location (Hospital, Fire Station, designated address or Lat/Lon) given current traffic conditions. This routing capability also provides FRX users with an Estimated Time of Arrival (ETA), and verbal Turn-By-Turn directions as they proceed to the designated endpoint.
Settings
Among other things the Settings Icon provides the FRX users with a means to tailor (personalize) the operations of their FRX app, initiate Ad-Hoc FireCast transfers to local users even when a WiFi Access Point or Cellular network connection is not available. FRX users can also securely recall their Credentials and forward a token to facilitate remote access their Credentials / Attributes should they be asked to do this by another jurisdiction / authority. The Settings page also includes a quick reference to the version identifier of the FRX app installed on their mobile device, something that may be needed by technical support personnel.
Introduction to our Public Safety Cloud Services (PSCS)
Service Discovery
The FRX app (itself) discovers the presence of locally provisioned PSCS deployed with a Cell On Wheels (COW) unit, or remotely provisioned PSCS in federated cloud computing resources distributed across the Internet. It is the interactions between the FRX app and the PSCS where mapping products and other mission-critical resources are discovered and downloaded for local use, and where real-time content streams (e.g., emergency response vehicle and individual First Responder availability and position updates) are gained. Federated PSCS are distributed and provisioned to operate 24/7/365, however sometimes these PSCS are not reachable because of network communications outages or Long-Term Evolution (LTE) coverage limitations. This is where Local PSCS – typically provisioned along with COW equipment, are used to service teams of First Responders operating in the field. Depending on the particular COW equipment configuration, options to establish connectivity between these Local PSCS and the (remote) Federated PSCS can be established using terrestrial (land lines) and other Beyond Line Of Sight (BLOS) communications resources (e.g., Broadband Global Area Network (BGAN) terminals). When these Server-to-Server (S2S) connections exist a fluid exchange of content can be shared between Federated and Local PSCS installations, which then propagates out to the FRX apps.
In many operational situations, it is assumed that the FRX apps will have limited and intermittent access to Federated or Deployable Local clouds. In situations where connectivity to federated or locally provisioned PSCS are not available, a third (or tertiary) option is under development to allow First Responders to leverage Peer-to-Peer (P2P) collaboration between FRX apps. This tactical collaboration implementation leverages ad-hoc mode networking technologies supporting interactions between mobile devices without the use of a network access point. Internally, we refer to this ad-hoc technology as "FireCast", which operates similar to Apple's AirDrop implementation, enabling FRX users to exchange mission-critical content (updated maps overlays, imagery, new Incidents, etc) between one another when Local or Federated PSCS are not readily available.
Requirements
FRX requirements are largely driven by inputs from contributing First Responder Communities of Interest (CoIs). These inputs often reflect the capability needs outlined in the Department of Homeland Security (DHS) Science and Technology (S&T) Directorate - Project Responder (Edition 5) report https://www.dhs.gov/sites/default/files/publications/Project-Responder-5-Report_170814-508.pdf, or the Research Roadmap for Smart Fire Fighting https://nvlpubs.nist.gov/nistpubs/SpecialPublications/NIST.SP.1191.pdf sponsored by the National Institute for Standards and Technology (NIST).
For more information on FRX submit an electronic Information Request Form (below).
FRX Information Request Form